You may remember the slightly odd night I had here. Well the jolly chap who was most insistent that we have a ripping night out was the same jolly chap that was sure the cab driver would take us to a happening place.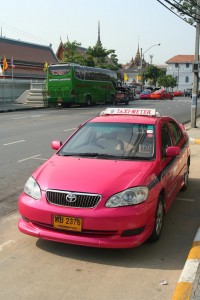 "Happening place" turned out to be a bit dodgy to say the least, but it's all part of the adventure and if you're not a sex tourist, then there's no reason to stay there. Our jolly chap (let's call him JC from now on) wasn't exactly a sex tourist, but he was a thrusting young man from Australia and mentioned he would be disappointed if he didn't hook up with one of the local ladies this time round. It seems he had been to Bangkok before and had managed to navigate the streets while avoiding the lady-boys and the bitches who view the farang as a quick source of cash.
Well, a couple of mornings after the failed night out he wandered into the dorm around 07:00 and crashed out in his bunk. He woke up later confused, hungover and still drunk saying he had to go to the police station, something had happened in the evening and he wanted to know if I'd come along for moral support?
Of course I said I would, I was intrigued and wanted to know the story. I got up and later in the day I found him talking with Bad Pitt (pictured behind counter)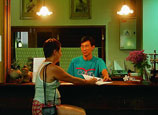 about not going to the station while Pitt was telling him he should go sort it out. It turns out that JC had gone to RCA, a club and bar district recommended by Mr Pitt as it is where the locals go to get away from the overly touristy bits. It's a good place for farang to avoid the tourist trap dangers, but that doesn't mean some locals won't take exception to you. Drink and hang out, but be careful! JC's story was fractured and tempered by booze.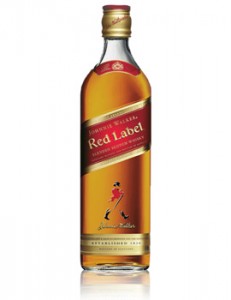 He went to a club and met with some ladies and started drinking Johnny Walker Red Label. He had a little dancing, some other people joined the group and they moved on to another club/bar. More Red Label and getting friendly with one of the girls. There might have been an argument with another guy and they decided to leave to go somewhere else. Let's call this new place "The Bar" because noone ever mentioned the name of it and I'm sure JC couldn't remember. He certainly had fuzzy memories of what happened inside, but there was a guy screaming at him about a broken table and he was marched to the police station at 3-4 in the morning. The girl he had been talking to disappeared and wasn't picking up her phone. He kept ringing because she was the only person he knew (he thought) who could help him out at the time. The Bar Owner (T-BO) was screaming that he broke a marble table top and wanted THB6000 (at the time GB£100, US$200, €150) to buy a new one. The police told them to both come back at 18:00 the next day to sort it all out. Consequently JC was seriously considering skipping the country and Mr Pitt was telling him not to and he would drive JC to the station where they'd sort it all out. I agreed to come with as moral support because JC wasn't a happy bunny at this point and still thinking about running away.
It by no means ends there! It continues with Part Two.