Continuing our story from here.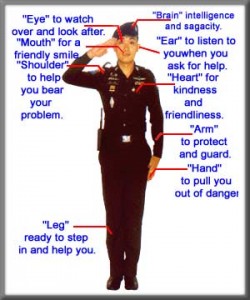 A quick recap: We were in the police station listening to the bar owner tell us what JC had done to deserve being dragged there at four in the morning.
It seems that JC had arrived at the bar early in the morning quite drunk with some other people including a girl he had been getting friendly with. He'd stumbled around causing trouble until he eventually kicked a table over, smashing the marble top in half.
Or so they claimed! JC and I worked our little strategy of huddling for little whispers of "I'm sure I didn't do that. I don't remember doing that. Maybe it's a scam. What do you think?" "I have no idea." "Maybe I did kick it over. Hmm…" The question of how the table top broke seemed sort of likely given the kick-it-over explanation. We'd previously been working on the assumption that it's pretty hard to break a piece of marble so were thinking it might have been thoroughly made up to get some cash out of JC.
We looked to the Police Officer. He looked bored. The bar owner said that he wanted to get back to his bar. He didn't care about pressing charges and such, he just wanted to replace the table top. He cut a deal so JC just paid half, THB3000. After a little back and forth JC decided it was the best option, despite some misgivings that it still might be a scam.
T-BO cheered up a lot at that point and started telling us more of what had happened. Turns out JC had been roaringly drunk, arguing with bouncers and even at one point urinating in the corner of the bar before kicking over the table. When confronted with the broken table he supposedly insulted everyone and claimed it was a scam. The girl he'd been hanging out with made a quick exit and T-BO had marched JC to the cop shop. It also turns out that T-BO had spent some time working in Australia near to the town JC had lived in! Hands were shook, we appologied to the police for causing trouble, JC paid up the baht (about GB£50, US$100, €75) and we all went our separate ways.
As we walked out and went towards where Mr Pitt's car was we found him on the phone. He'd been calling around his friends because he knew someone who knew someone who was in the police who might help or something. He'd been on the phone for the 3 hours we'd been in there. Then he took us for noodles and chrysanthemum syrup slushed ice drinks. What a jolly end!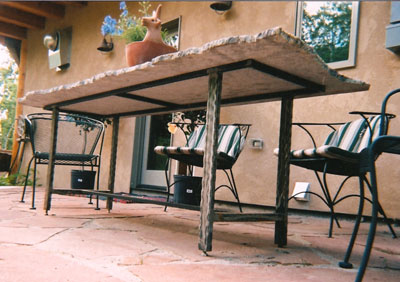 [Not the actual table, just a random image I found.]