Maybe not the WORST, we haven't been to them all – that would be retarded/unfeasible but this one is pretty shit, as well as being indisputable PROOF that monopolies are EVIL, as it's the only hostel in Harbin – Northern China.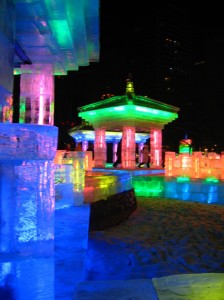 So the 'good' news is that if you're planning to go there on a budget then you'll get to verify the FACTS below for yourself.
I'm talking about Little Fir International Youth Hostel; don't let the name fool you – there is nothing 'international' about this place, the staff certainly don't speak a word or anything other than Mandarin; now I'm not the sort of imperialistic English knob that thinks every foreigner should speak the Queens, all I'm saying is don't market yourself as 'International' if you can't 'talk the talk'. Having said that, I guess it might not actually be in sodding China since it's so far out of town, so that would class it as international, right?
Smells of cabbage… overcooked crappy cabbage… all the time… don't know how they do it.
Showers – cold. Middle of winter, there for the Harbin Ice Festival, (which is fucking awesome by the way as probably the reason your looking into Harbin – post on that coming soon) -30°, is a warm shower too much to ask? Apparently yes… it is.
Curfew – lock the doors at something daft like 10pm.
Internet – crap/slow/expensive.
Staff – rude/grumpy/some of them were INEXCUSABLY UGLY
Room – I've seen shoe boxes with more character; a white box with 3 beds in… that was it… Oh no, I forgot the damp, there was some charming damp.
In conclusion, for those of you who like your info presented in a Hostel Bookers style in-depth review…
…spiders 8%