Every day life in the Netherlands has brought me many more a giggle over the past year than I had initially expected, and this was, and still is my number one! Every country suffers from badly translates signs, poorly marketing gimmicks and naturally a different way of addressing their culture, but this surely comes very high up the list of undesired company names.
I came across this touch of genius just a few weeks after moving here. While out to buy some humble bread I stumbled across this store next to the local supermarket.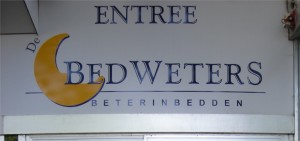 I was beyond belief, and immediately convinced that this Dutch bed and bedding chain store had not yet decided to go international. Still unsure of whether they offer free rubber sheets with every purchase I decided the best plan would be to take a photo before my gleeful chuckling attracted too much attention of bewildered Dutchmen.
It turns out that Bed Weters are exactly the type of people who the Dutch want in their bedroom! It makes a lot more sense if you've done a Dutch language course; their name being a pun between beter weters (those who know better) and, well… people who know beds, of course.
I began to wonder, are the Dutch all so open and unabashed that nocturnal urination can develop into a national brand? It turns out they are.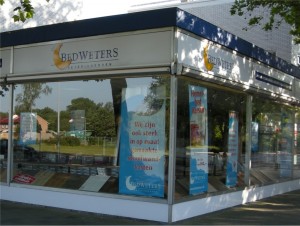 The Dutch are generally unworried by taboo. Products marketed for a "sensitive bladder" in the UK are here sold as a solution to "urine loss". You can buy a vibrator by the toaster section in your electronics store and the beautiful Rotterdam has it's own Homo-MP. The Dutch aren't crude; they're just not shy about what is only natural.
Over the following year I was to observe several more perfect examples of what not to call your product on the international market, and I will be sharing the finest of my discoveries here, so stay tuned.
---
Spangle is an international type. Having lived and studied in five european countries, and travelled through numerous others, she enjoys finding the little quirks of each culture. She regularly takes pleasure in a night out at the pub amongst a group which consists of internationals residing in her city, and those travelling through.
She organises various events, including couch and kitchen surfing events, flash mobs and the infamous International Pillowfight Day (among the other 150 cities involved) in and around Rotterdam, Netherlands, where she currently resides.