Some visitors to this site are using the search terms "gonzo china" because they don't know how to spell "Guangzhou". This isn't a problem for us, as we at Gonzo Tourism are happy to get any links we can, but I think I should give the people what they want. So, due to the high demand, here is a little tale of Guangzhou, China.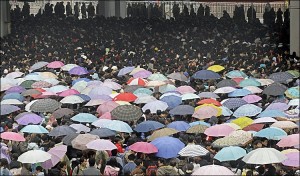 February 2008 heralded the worst snow in China for 50 years and generally made travelling a bit difficult. By difficult I mean the news reports were letting everyone know that the Southern train hub of Guangzhou was completely shut down due to snow on power lines. Since a large amount of the Chinese population have relocated away from their hometown's and the Lunar New Year was the only time they got to see their family in a year, this wasn't boding well for our plan to get to Hong Kong for a big New Year Party.
We already had our train tickets to Guangzhou booked to leave on the 5th February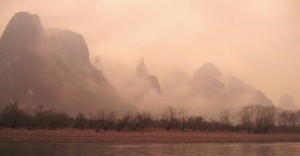 from beautiful, but wet Yangshuo (pictured) and arrive on the 6th with the hope we could get to Hong Kong from there. We were actually a bit worried that the train we had booked would be cancelled. Luckily it made it there and we got out into bright sunshine of Guangzhuo central.
The first thing we noticed was the complete lack of people swarming the station. Then we noticed some workers taking down some structures that looked quite a bit like pens. Pens for people. As we got up to the ticket office we saw that we couldn't get in. We could see the empty ticket windows and no way is so we wandered along until we came to an open door with a single open ticket window behind it and in front of both a mighty guardian. A policeman was blocking our way letting only the worthy past: those that held unused tickets from the time of the "great snow" were allowed to swap them for valid tickets a week in the future. We did not have such coveted tokens and even if we had, we wanted to be in Hong Kong a mite faster than that. We made our way to the coach station.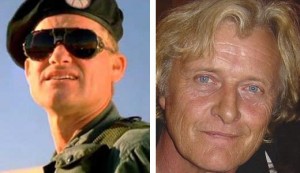 We did our best to get a coach to Hong Kong island or even to Kowloon or anywhere off the mainland where British Citizens could proudly stride without visas, safe in the knowledge that they would not be stared at, treated like movie stars, etc. (Mainlanders seemed to think I looked much like Kirk Russell and the Captain bore an uncanny resemblance to Rutger Hauer.) The best we were offered was a ticket to Shenzhen.
We hadn't heard good things about Shenzen and weren't exactly relishing getting a cab from there to the border and then working out transport on the other side. With the sun out and no apparent means to leave Guangzhou we started to consider staying. It did look like quite a nice place. Before we got to wondering how many other people had been forced to stay and if there was anywhere that would have available rooms, a heavily armed security type guard approached us.
By heavily armed I mean he had a sub-machine gun. This was the first time we'd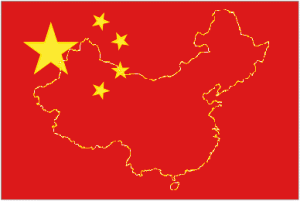 been addressed by any one in China with a weapon. He asked us where we were going. In hindsight and knowing what we knew and had subsequently forgotten this might have a been a "sticky" situation. We told him we wanted to get to Hong Kong and he told us the best thing to do was to go 15 minutes around the corner to a particular hotel and get the private coach from there. He was enormously helpful and was one of many ordinary Chinese who helped us with directions for no reason other than we looked like confused tourists. It happened a few times in our travels and we were very grateful for the many people who were delighted to show us the way.
We got going towards the point on the map he had shown us and enjoyed the sunshine. Guangzhou was a bit polluted, but seemed quite nice once we'd got away from the main highway junction near the station. We went past what appeared to be a hastily set up temporary coach station with giant queues outside and worried that it would be like this everywhere. We were fairly sure that we where going in the right direction, but decided to ask a chap to double check. He was trying to get us into some kind of big expensive hotel to stay, but we let him know we wanted to go to Hong Kong and just wanted to check we were heading the right way. He initially deflated when he found we didn't need accommodation, then perked up and said he'd show us where the hotel coach was. We all marched in the same direction we were going anyway and 5 minutes later, we rounded the corner and there was the hotel coach. We thanked the guy who insisted on taking us up to the ticket desk and then started tapping numbers into his phone. Turns out he was planning to either charge us for "showing" us the way or buying us tickets and charging way more than the clearly advertised price!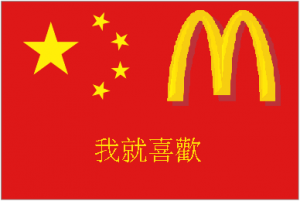 We argued a little because we were heading in the right direction anyway and this guy was being a jerk about it. We were totally surprised that he wanted to rip us off so blatantly, especially as the security guard had been so helpful. We eventually shooed him off, it helped that the woman at the ticket desk started laughing at him. By this time hunger set in and because the coach was leaving soon, we had to go to the only fast food restaurant nearby. A shameful way to end our last day on the mainland.
We were not forlorn for long, however, because shortly after, we got to experience this: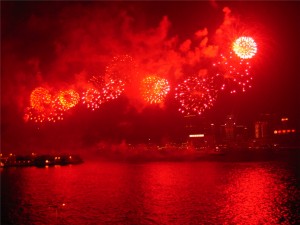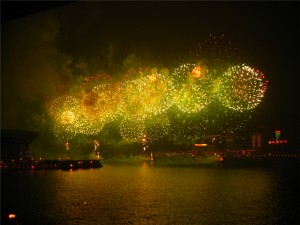 Hong Kong, Lunar New Year 2008